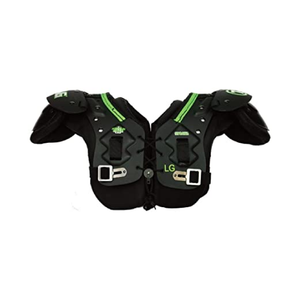 TAG Battle Gear II Youth Shoulder Pads
Regular price
$ 55.00
$ 0.00
-Adjustable Velcro neck opening with steel spring/cantilever.

-Comfort foam neck binding.

-Nickel hardware, plus Velcro removable lining for easy cleaning.

-Extended black corrugated arches for lighter weight, strength, and durability.

-HDOC foam with double density arch padding construction.

-EPE foam outside shell; comfort HDOC foam inside with antimicrobial lining.

-Drilled holes for attaching neck roll and back pads. Single elastic underarm strap.

-Front webbing wrap around snubbers.

-T-hook elastic straps.

-Liner is Machine washable.

WARNING:
Football is a dangerous sport which may result in serious injury or even death. Although our equipment is designed to help reduce the risk of such injuries, there is no guarantee that any injury will be prevented by the use of this equipment. Any modification or alternations without the permission of the manufacturer could reduce the protection of this equipment.

TAG accessories are designed to fit TAG equipment for the best protection and performance. The use of third party accessories compromises the quality and protection of TAG equipment. Use of third party accessories on TAG equipment will void the TAG warrantee.
---
More from this collection