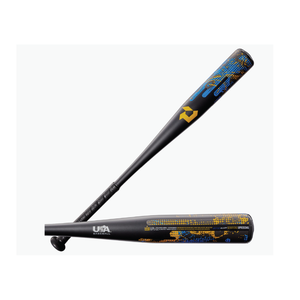 2022 DeMarini Uprising (-11) USA Baseball Bat
Regular price
$ 109.99
$ 0.00
DX1™ Alloy Barrel: A high strength alloy that is built for peak performance and durability.
1-Piece Alloy Construction: Built for maximum stiffness and ultimate bat speed.
ION D End Cap: Built to provide a lighter swing weight while optimizing barrel performance.
WARNING: Most bats are made to standards of governing bodies, including any certifications shown on this bat. Still, a hitter can generate batted ball speeds that present a risk of serious injury or death to fielders, nearby players, coaches, umpires, and spectators. Be alert and aware of all batters, and use appropriate protective equipment at all times, on a baseball or softball field or near a batter.

Manufacturing tolerances, performance considerations, and grip weight may cause variations from the listed weight/Mass Index.
---
More from this collection